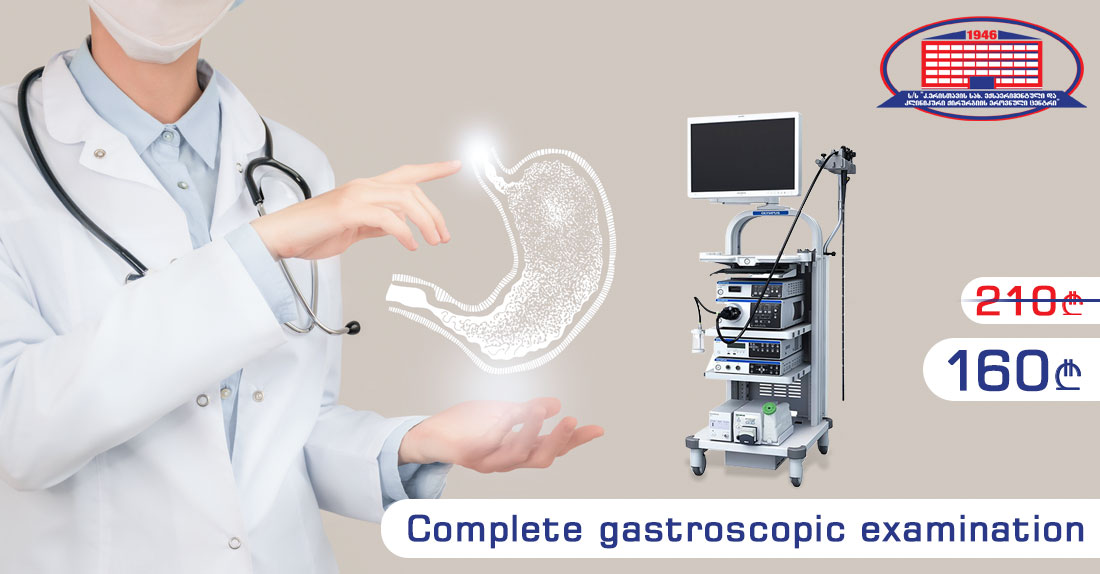 Every Saturday, the National Center of Surgery offers a thorough gastroscopic examination with consultation with a gastroenterologist
For 160 GEL instead of 210 GEL we offer:
Complete gastroscopic examination of the esophagus, stomach, and duodenum using an Olympus ultrasound equipment under anesthesia or without anesthesia. The device stands out due to its ideal visuals. The doctor can utilize the endoscope's NBI mode, which is based on its high-tech, so-called with the possibility of narrow-spectrum radiation makes visible in the thickness of the mucosa, a network of blood vessels located deep underneath it, the so-called piles. This detects abnormal growths in the esophagus and intestinal mucosa that are not detectable.
Following the survey, you will be contacted by a gastroenterologist who will provide you with a consultation and prescription.
On the same day, you will receive a gastroscopic examination response.
You can take advantage of this promotion if you have any of the following symptoms:
Epigastric (stomach) pain and heaviness;
Heartburn;
Burping;
Hiccup;
Swallowing difficulties;
Suffering from swallowing pain.
Every Saturday, the program will be led by a proctologist surgeon, endoscopist - Lasha Silogava - and a gastroenterologist - Nikoloz Medzmariashvili.
To use the promotion, please pre-register in advance at (032) 2 02 25 25 or (+995) 577 119 119!
Wish you health!
Give us a call
---
What are patients interested in
Acidic saliva (GERD)
Qauestion:: Hello, please help me, I'm an emigrant and I can't see a doctor here. I have excessive acidic saliva in my mouth for a few days now. It's not heartburn. I have an unpleasant feeling in the abdominal area, my gallbladder was removed. Could you prescribe some type of medication, please.
See Answer
See More