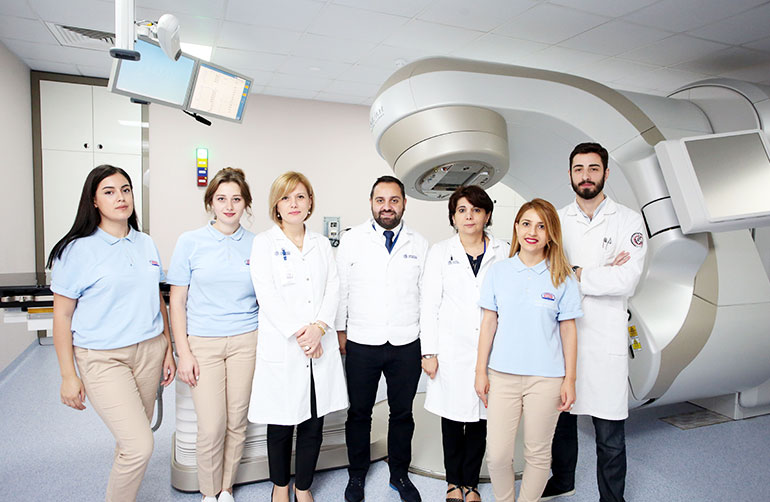 The radiotherapy department of the National Center of Surgery is equipped with the ultra-modern, sophisticated clinically equivalent (twin) linear accelerator Truebeam and Vitalbeam manufactured in 2018 by American company Varian, which gives us the opportunity to treat the patients without impediment.
The radiotherapy department of the National Center of Surgery offers high standard radiotherapy treatment using modern technologies and evidence-based medicine. The goal of every member of our team is to offer you a treatment course based on your requirements and needs in our warm environment.
The treatment course and radiotherapy schedule planning are very important. These processes will be carried out by the professional Georgian doctors working abroad – Natia Esiashvili, associate professor and chief quality officer of the Department of Radiation Oncology at Winship Cancer Institute of Emory University, Atlanta, Georgia, and Maia Dzhugashvili, a reputed first-rate Oncologist at the multidisciplinary center GenesisCare Spain, a member of ESTRO National Societies Committee, a professor of the Master's Degree in Advanced Technological Applications in Radiation Oncology at the University of Murcia.
The radiotherapy department offers: the radiation therapy for the central nervous system, head and neck, lungs, breast, gastrointestinal (GI) tract organs, genitourinary system cancers, lymphoma and hematologic cancer, bone and soft tissue, skin, brain and bone multiple metastases using ultra-modern radiotherapy options: 3DCRT – Three dimensional (3D) conformal radiation therapy, IMRT - Intensity-Modulated Radiation Therapy, VMAT (RapidArc) - Volumetric modulated arc radiotherapy, RGRT – Respiratory-gated radiotherapy. The treatment procedure is done under the IGRT (Image-guided radiation therapy) control, which makes it possible to perform the high-quality treatment. High quality and safety are always considered in the planning process.
Radiosurgery (SRS and SBRT) and brachytherapy will soon become available at the radiotherapy department of the National Center of Surgery, which will make the treatment more flawless.