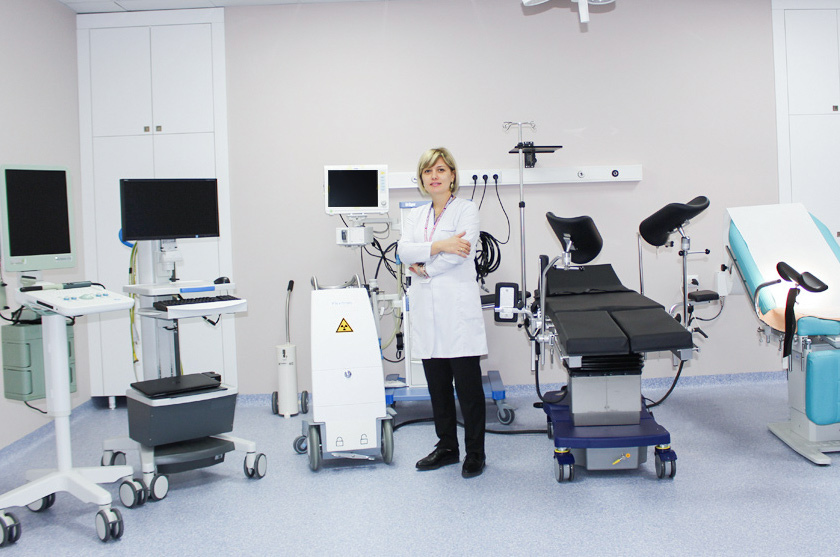 In the Radiotherapy Department of National Center of Surgery oncology patients receive brachytherapy treatment known as intracavitary radiotherapy.
It's one of the forms of radiation therapy using which cancer is treated with loading (high) dose.
What is brachytherapy?
According to the 2019 study by National Cancer Database (NCDB) and EMBRACE (Scientific Research for Improvement of Clinical Outcome), using this method in treatment (together with remote radiation therapy) increases local control degree by 22% (decreases chances of relapse) and overall survival by 29%.
It presents an invasive method of radiation – in this procedure source is placed directly in the organ damaged by cancer. Overall, the full course of treatment comprises 1-5 procedures. The procedure is conducted on an outpatient basis i.e.patient is held up in the clinic only for several hours. Afterward, the person is discharged and returns to the usual rhythm of life.
It's mostly conducted in combination with remote radiation therapy and is ordered as a neoadjuvant, adjuvant, radical, and palliative treatment.
What should you know about technical equipment?
In the department, treatment is delivered with Company Elekta's latest, 2019 high dose-rate Flexitron-HDR, which has an Iri-192 as a source of radiation. For achieving maximum outcomes, the device has a sophisticated, fast, and accurate 3D system of treatment planning.
It's the most modern device, therefore, it's equipped with new and clinically sophisticated applicators. These ultramodern applicators enable our clinic's radiation oncologists to maximally affect the area damaged by cancer and protect surrounding healthy organs and structures.
In National Center of Surgery, every procedure planning proceeds with magnetic-resonance tomography imaging. Only with such comprehensive planning is it feasible to deliver radical treatment of stage IIB-IIIA-IIIB-IVA cancers.
In terms of cancer sites, what kind of cancers are treated with this modern method?
In the clinic, we treat cancers of all sites, particularly:
Skin cancers;
Breast cancer;
Sarcoma
Cervical, vaginal, uterine, and vulvar cancer;
Anal and rectal ampulla cancer;
Prostate cancer ;
Bronchial cancer;
Cancer of tongue, lips, cheeks and nasal cavity;
Oesophageal cancer.
What should you know about invasive methods?
Depending on the placement of the source, there are 5 invasive methods, during which applicators are placed directly in the damaged area or on its' surface, particularly:
Intracavitary;
Interstitial (intra-tissue);
Intraluminal (lumen);
Endovascular;
Contact.
Why do radiation oncologists perceive brachytherapy to be an effective treatment method?
Primary advantages of this method are:
A high biological effect that consists of the sensitivity of cancer cells to high dose rate radiation;
Minimal radiation toxicity to surrounding healthy tissues;
An effective measure for complete control of cancer;
Minimum side effects;
Accurate and extremely sophisticated treatment system;
Patient's daily rhythm of life doesn't decrease because of the procedure;
It helps oncologists prevent relapses.