Sleeve-gastrectomy – Obesity problem solution with surgical method
Sleeve-gastrectomy – Obesity problem solution with surgical method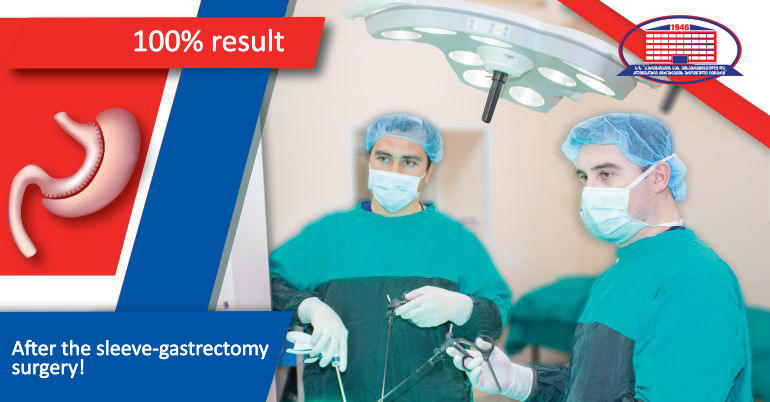 If you suffer from excess weight and would like to say goodbye to it in a secure and painless way, National Center of Surgery offers you a sleeve-gastrectomy operation.
It is a minimally invasive surgical intervention with 100% result
Visit National Center of Surgery and benefit from our experience.
Team of experienced surgeons will care for your healthy weight recovery, who've been successfully performing sleeve-gastrectomy for years. Thanks to them, number of grateful patients increase.
Sleeve-gastrectomy is a stomach's vertical resection, where volume of the stomach reduces. With removed part of the stomach, hormone responsible for appetite is also removed. To be more specific, ghrelin is a hormone that causes feeling of hunger.
Sleeve-gastrectomy is performed with laparoscopic method.
With sleeve-gastrectomy, patient says goodbye to excess weight and also, diseases, accompanying the obesity, regress.
The clinic is equipped with highest quality apparatus that play an important role in successfully conducting the operation and reducing the risks of complications .
On the second day of the operation, patient stands on his/her feet, starts to be active and gets discharged in 5 days.Whereas, in one month patient starts exercising.
It's important to analyze that obesity as a chronic problem and not a cosmetic defect. It can be accompanied by various diseases that endanger patient health and reduce the quality of life.
National Center of Surgery's team of doctors provide patient's preoperative preparations.
Surgeon;
Cardiologist
Psychotherapist
Therapist
Endocrinologist
Dietologist
Complete course of examination is prescribed and realized by them.
National Center of Surgery's professional surgeons with desired medical results offer you an environment maximally adjusted to your comfort.
Come and get better, be cured of obesity.