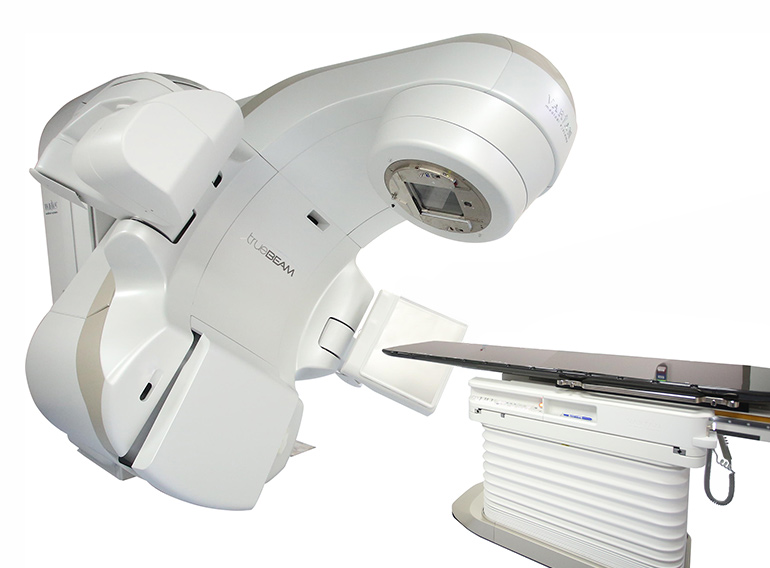 Varian Truebeam
The Radiotherapy Department of the National Center of Surgery is equipped with a modern and state-of-the-art American Varian and the most sophisticated 2018 clinically equivalent (twin) radial accelerators with Truebeam and Vitalbeam, which guarantees uninterrupted treatment of the patients.
The Department of Radiotherapy of the National Center of Surgery, individualized for the patients using modern technologies, provides evidence-based, high-standard radiation therapy. The aim of each member of the Radiotherapy Department team is to offer you a course of treatment adjusted directly to your needs and wants in a caring environment.
It is crucial to develop a treatment plan and radiation plan for the patient. This process is implemented with the joint cooperation of the Radiotherapy Department of our clinic and successful Georgian experts working in this field abroad. In developing the treatment tactics and radiation plan are participating Head of The Department of The Radiation Oncology, Emory University (Atlanta, USA), Professor Natia Esiashvili, and the Lead Specialist of the Multidisciplinary Oncology Institute of Genesis Care, Spain, member of the International Relations Committee of ESTRO International Radiation Oncologists, Associate Professor at the University of Murcia Maia Jughashvili.
The Radiotherapy Department conducts:The Central nervous system, head and neck, lungs, breasts, organs of the gastrointestinal tract, urological and gynecological oncological diseases, lymphomas and hematological tumors, bone and soft tissues, skin, radiotherapy of multiple bone metastases, and the brain using modern radiation techniques: 3DCRT 3 dimensional conform, IMRT intensity-modulated, volume modulated VMAT (RapidArc), RGRT respiratory synchronized radiotherapy.
The daily treatment procedure is completed with IGRT (image-guided radiotherapy) control, which provides the implementation of the treatment plan with high accuracy. Planning for each patient is completed with the highest quality and compliance with safety standards.
Shortly, radiosurgery (SRS, SBRT) and brachytherapy will be added to the services of The Radiotherapy Department of the National Center of Surgery, which will make the treatment of the patients in this area even more complete.