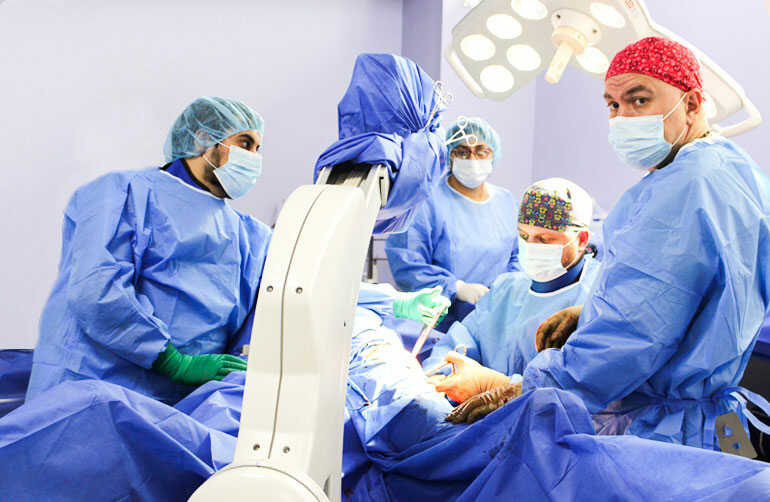 The department of traumatology and orthopedics offers the treatment of traumatic injuries of all types and localization around-the-clock.
Following services are available at the clinic:
Endoprosthesis of hip, knee, shoulder, and fingers;
Limb lengthening during acquired pathologies;
Correction of congenital and acquired pathologies;
All types of surgical intervention after fractures (Osteosynthesis);
Bone grafting for nonunion fractures;
All modern surgeries involving hand and foot;
Injection of a medication in the joint under the X-ray control;
At our clinic, all types of examination can be performed in one space!
The surgeries are performed with the modern implants manufactured by the well-known companies.
The patient can use any outpatient-traumatology service.
The clinic is equipped with the latest model equipment, C-arm, as well as stationary x-ray machine of "Shimadzu". Doctors are using implants of German brand "Aesculap", which is stocked in the clinic. That is why the services of this department are delivered continuously without delay.
Many women (especially after menopause) develop osteoporosis. This is a disease that causes the loss of bone mass. The doctors of the National Center of Surgery appoint conservative treatment to increase the bone mass. Such treatment prevents the development of osteoporosis and the patient will not suffer from discomfort. The prophylaxis reduces the risk of fractures.
The National Center of Surgery successfully conducted over 2000 surgeries of all difficulties, most of them are endoprosthesis. According to official statistics, if the risk of complication of this type of surgery in the world is 2%, this indicator is close to 0% at our clinic. After endoprosthesis, the joy of life returns to the patient, becomes actively involved in the usual rhythm of life, and can even do a low-intensity physical exercise.
It is noteworthy that the patients with joint pain often admit to the National Center of Surgery. In cases where the general health condition of the patient does not allow us to perform the surgery, the doctors of our clinic choose the special conservative treatment - to lubricate the joint with the injection of the hyaluronic acid. This medication does not have any contraindications. The procedure lasts for a few minutes and patients can continue their life without surgery.