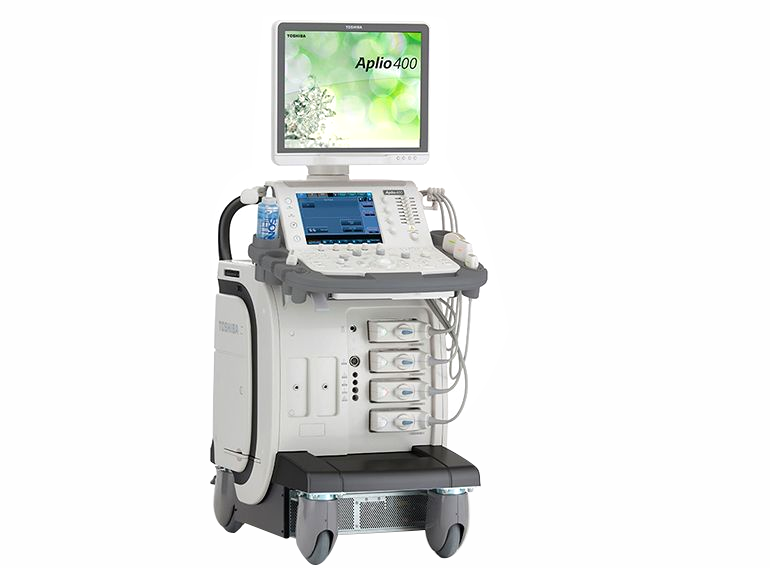 TOSHIBA - Aplio400

The National Center of Surgery is equipped with the latest echocardiography machine TOSHIBA Aplio 400. The advantages of the device are high quality images. Aplio 400 is an accurate diagnostic tool.
The machine has all the functions for ultrasound scanning, but the innovative method implemented in this machine is especially remarkable. Speckle tracking - 2D Strain Echocardiography is a method of studying which allows to explain pathophysiologic mechanism and show asymptomatic, early signs of left ventricular dysfunction, while studying myocardial deformity.

Speckle tracking - the fundamental principle of echocardiography study is the observation of the spots - acoustic markers movement caused by the natural light refraction of ultrasound rays on the border of two different densities. Analyzing this motion in two-dimensional mode determines the displacement, the frequency of movement (speed), deformation and deformation speed, and heart rotation processes of the segments of interest. 2D strain technology in three dimensions - a linear, circular and radial directions can assess segmental and global myocardial contraction and rotational mechanics by analyzing myocardial deformity and describing heart rotation and Twisting/Untwisting processes.
High informativeness, simplicity of performance and the possibility of using it multiple times defines popularity and broad usage of 2D strain technology. For this purpose, the leaders of National Center of Surgery made the decision to have the latest echocardiography machine TOSHIBA Aplio 400 equipped with this function.