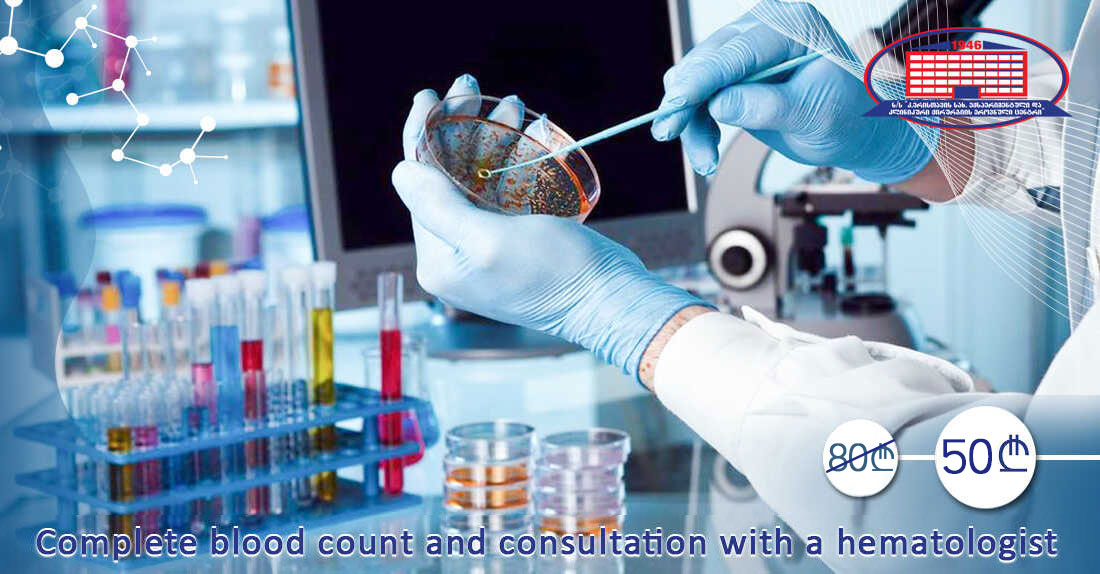 National Center of Surgery offers a promotion on complete blood count and consultation with a hematologist
A complete blood count is the most requested test in the world that reveals direct or indirect changes in the body.
Lately, it became common for patients to read their own complete blood count result, compare it to reference range, i.e., the normal range indicated on the paper, and draw conclusions. This, of course, isn't acceptable because only a professional can draw a conclusion regarding pathological processes in the body even if some numbers are normal.
Department of Hematology of National Center of Surgery offers cross-controlled complete blood count. The professional hematologist will assess the results and plan the course of treatment, if necessary.
Within the promotion, you will undergo a test and consult with the doctor only for 50 Gel instead of 80 Gel.
Promotion is valid every Monday and Tuesday.
If interested, please, make an appointment in advance at (+995) 0322 02 25 25.
Wish you health!
Give us a call
---
What are patients interested in
Low hemoglobin count
Qauestion:: My father is 72 years old and has a hemoglobin level – 63, I'm interested in how low and dangerous is this level?
See Answer
Splenomegaly
Qauestion:: Hello, as a result of the strike, my left side i.e spleen started to hurt several months ago. It can be identified through contact and it hurts. Then the pain was relieved but started to hurt again a few days ago. Spleen is enlarged. What can be the cause of it? It started to hurt again after I caught a cold. It could be examined through contact. How can the spleen return to its normal size and what can I take?
See Answer
See More