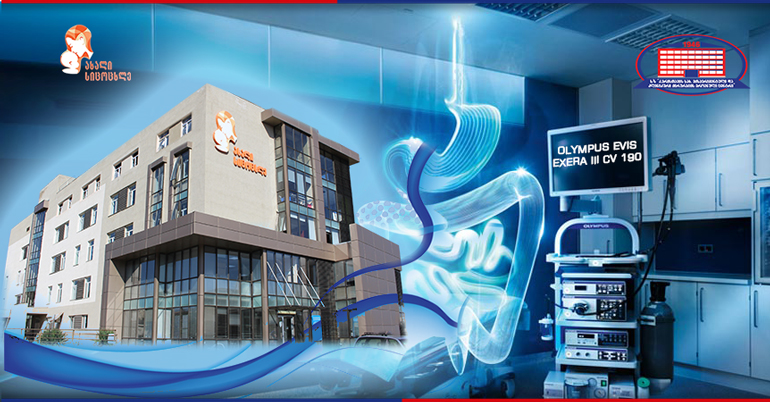 Clinic of National Center of Surgery "New Life" is a multi-field clinic where medical services are available for 24 hours.
The clinic has a functional endoscopy room since January 1st. The clinic offers full range of endoscopic examinations and manipulations. In "New Life" you can benefit from all the modern methods implemented in the most prestigious medical centers in the world.
The latest generation endoscopic machine of the clinic "New Life", best in the world, OLYMPUS EVIS EXERA III CV 190 series, is manufactured in Japan and distinguished by high quality visualization and maneuvering.
Due to the device, doctors have the ability to detect Gastro-intestinal tumors timely and carry out an effective treatment plan, that does not happen in all of the clinics in our country.
Please, visit our clinic "New Life" and use the unique features of the latest generation endoscopic apparatus.
One of the main advantages of the device, visualization of an image in HD quality, allow us to make accurate diagnosis, investigate every millimeter of the gastrointestinal system and in advance detect pathologies such as tumor processes in the early (in situ) stage, and therefore start the treatment timely.
The best quality visualization reduces the duration of the study process, which is comfortable for both the patient and the doctor. The study can also be conducted with a short-acting intravenous anesthesia, which is completely safe for the patient.
The clinic follows all modern rules of sterilization. Manipulations are safe and painless procedures.
In addition to endoscopic machine, the endoscopy room is equipped with Argonoplasmic Coagulation machine, produced by German company "ERBE", which is unique to our region and allows us to treat different diseases without performing open surgeries. This machine makes it possible to prevent oncology diseases, such as ablation of Barrett's esophagus using endoscopic method. It is noteworthy that it is a very common disease in our country and is considered to be a pre-cancerous stage, which develops during the hiatal hernia.
In the endoscopy room of the clinic "New Life" both planned and urgent manipulations are conducted, for example:
• Gastroscopy;
• Colonoscopy;
• Duodenoscopy
We carry out minimally invasive interventions on biliary system, stomach, large intestine. We also offer the ligation of esophageal varices, ablation of Barrett's esophagus. Manipulations to stop the bleeding, remove various lesions using endoscopic method are performed successfully in the endoscopy room.
Free consultations with doctors are regularly held in "New Life". Also, we offer unprecedented promotions. The clinic plans to carry out various offers for gastroscopic and colonoscopic studies from the February 1, which will enable patients to receive full and highly qualified services at minimal cost. Keep an eye on the clinic's web site and the official "facebook" page and use unprecedented promotions for the benefit of your health.
Address:
Tbilisi, Digomi Lubliana street №21a
Hot line:
(+995 577) 059 900
Wish you Health!