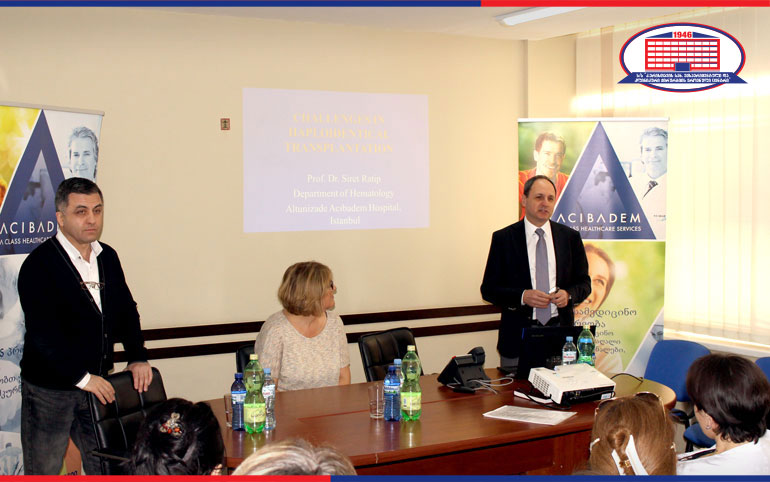 Professor and a well-known hematologist Siret Ratip visited the National Center of Surgery from one of the most prestigious clinics in Turkey – ACIBADEM.
The bone marrow transplantation is planned in the nearest future at the National Center of Surgery and several months ago Clinical Director of the National Center of Surgery Nikoloz Chaduneli and a Head of the Hemophilia and Thrombosis Center, Levan Makhaldiani, visited the "Acibadem" clinic. Mr. Siret's visit was planned on this meeting.
In the conference hall of the National Center of Surgery, the professor delivered a presentation concerning the bone marrow transplantation. Mr. Nikoloz Chaduneli informed Mr. Siret about the historical past of the National Center of Surgery and the field of hematology in the clinic.
The event was attended by the doctors of the National Center of Surgery, as well as specialists invited from other clinics. After the presentation, Professor met onco-hematological patients.
Bone marrow transplantation is one of the most widely used treatment methods for various serious diseases, which allows the replacement of damaged cells with new and healthy cellular masses. The transplantation of bone marrow (stem cells) involves the removal of damaged cells and replacing them with new, healthy tissues.
During the bone marrow transplantation it is possible to use autologous (own) as well as allogeneic (taken from a relative) and haploidentical stem cells.
It should be noted that the Department of Hematology at the National Center of Surgery, has been successfully functioning since the establishment of the clinic. In the Department of Blood Diseases of the National Center of Surgery severe pathologies, such as acute and chronic leukemia, non-Hodgkin's and Hodgkin's lymphoma, myeloma disease, anemia, thrombocytopenic purpura, coagulopathy and others are managed.
Our clinic is multi-field and this is very important for patients - they have a unique opportunity to be treated in the proper department, and if necessary, in case of any complication or any additional need, the patients can get professional help on other issues without leaving the clinic!
The Blood Disease Department of the National Center of Surgery has high patient load and a lot of grateful patients.
National Center of Surgery address – Tbilisi, Digomi Chachava street N5.
You can contact the Call-center of the National Center of Surgery at 577 11 91 19 or 2 02 25 25;
Wish you health!