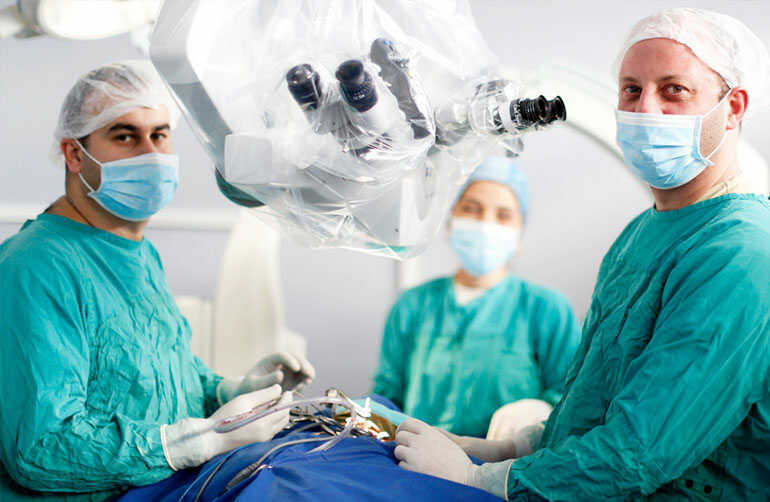 The Department of Neurosurgery of the National Center of Surgery is up to date with the modern medicine.
The ultra-modern apparatus of the clinic allows neurosurgeons to deal with the pathologies of any complexity.
Surgeries of all types and difficulties, which are performed in the leading clinics of the world, are also performed at the National Center of Surgery. For example, surgeries during the pathologies of the brain and spine, minimally invasive endovascular intervention during the vascular pathologies, aneurysms, and thrombosis of the brain vessels.
The exclusive method of thrombectomy throughout Georgia is worth mentioning! This is an intravascular manipulation, which allows the surgeon to take the thrombus out of the blood vessel. The operation lasts for about half an hour, after which the patient is discharged from the hospital only 3-4 days after the surgery. The thrombectomy becomes necessary if the patient develops acute ischemic stroke, which is caused by the thrombus blocking the lumen of the blood vessel, which impairs the blood flow to the brain, which is why the stroke develops. In this case, the surgeons remove the thrombotic masses, clear the vessel. This is a minimally invasive intervention, which requires regional anesthesia. This intervention is carried out through a small puncture in the femoral area. The operation is performed under the control of the angiograph. The thrombectomy procedure is successful at the National Center of Surgery.
The Department of Neurosurgery is equipped with "SHIMADZU Trinias B12" biplane angiograph. This equipment is the only one in the region and allows us to do unique operations. Angiograph perfectly meets the requirements of endovascular neurosurgery. The advantage of this machine is a biplane feature, which is essential to achieve high resolution. Angiograph significantly reduces the duration of the operation. This angiograph made it possible to perform difficult operations such as brain malformation, brain tumor, large size and complex localization brain aneurysms, carotid artery thrombosis, stenosis of spinal and carotid arteries, stent placement, ballooning, coil embolization of an aneurysm.