International conference of National Center of Surgery
International conference of National Center of Surgery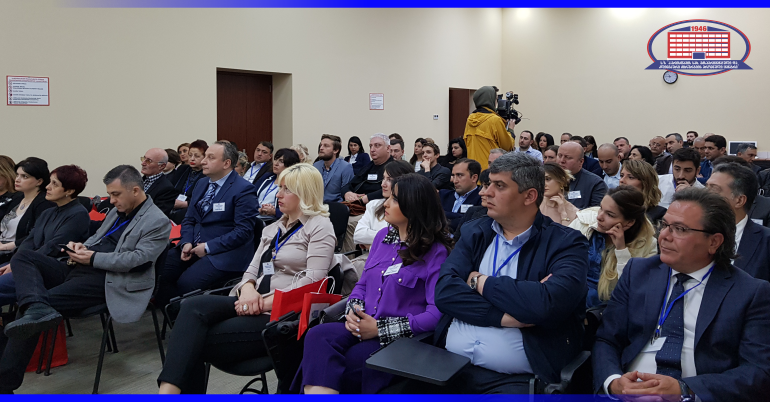 National Center of Surgery's international conference dedicated to contemporary principles of colorectal cancer management was held at "Aversi" conference hall.
Alongside Georgian doctors, foreign surgeons also participated in the conference.
Famous Turkish surgical oncologist, robot-assisted surgeon Oktar Asoglu visited clinic especially for this event.
It should be noted that neurosurgeon, Professor Tunk Kochi, who works in Turkey, also attended International Conference of National Center of Surgery.
After National Center of Surgery director general, Lasha bazadze and chairperson of supervisory board, Tea Gamezardashvili made an opening speech, conference officially opened.

Audience had an opportunity to acquire information regarding rectal cancer's early diagnostics, chemotherapy, radiation therapy, endoscopic, laparoscopic and robotic surgery.
The conference consisted of two segments. Guests of the first session listened to following reports:
"Abdominal computed tomography during rectal cancer" – Erekle Gigiadze, Doctor-Radiologist;
"Primary MRT diagnostics of rectal cancer" - Manana Khidasheli, Doctor—Radiologist;
"Colorectal cancer treatment in National Center of Surgery" – Gigo Pichkhaia, Head of the general Surgery Department;
"Metastatic colorectal cancer systemic treatment" – Nata Murusidze, Oncologist;
Neoadjuvant (supporting) radiotherapy (short and long course) – Lasha Goginashvili, Radiation Oncologist;
Second session of conference was dedicated to following topics:
"Laparoscopic and robotic surgical treatment of rectal cancer" – Oktar Asolgu
"Metastatic rectal cancer and metastatic cancer's stereotactic radiotherapy" – Besik Sokurashvili, Radiation Oncologist, Head of the Department of Radiation Therapy;
"Rectal cancer management – Neoadjuvant and adjuvant therapy tactics" – Irina Khubua, Clinical Oncologist, Head of the Department of Chemotherapy;
"Widespread rectal cancer and recurrent cancer's non-surgical treatment" – Oktar Asolgu
Speakers presented photo and video materials and discussed specific clinical cases.
International conference was broadcasted by Pulsi TV broadcasting station.
National Center of Surgery is a multi-profile clinic with great traditions, where the contemporary methods of diagnostics and treatments, achievements of laparoscopy and endoscopic operational medicine are widely implemented.
National Center of Surgery address: Tbilisi, Dighomi, Chachava N5.
You may contact National Center of Surgery's call center at 577 119 119 or 2 02 25 25!
Wish you health!