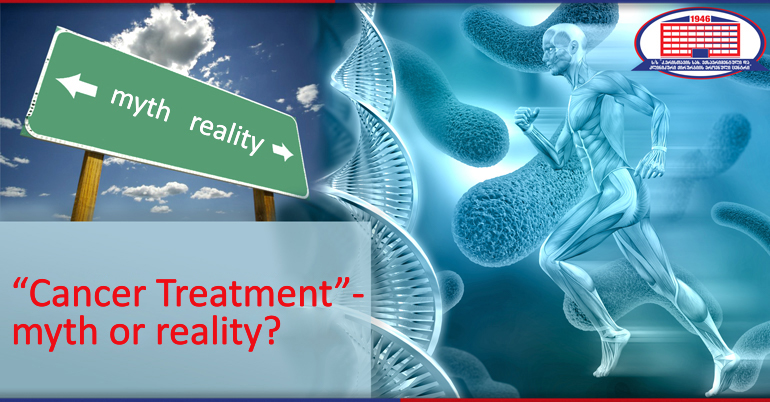 With the help of modern technologies and innovative methods, cancer can be defeated.
A tradition of cancer treatment has existed for a long time in Georgia, but there has always been a need for that and nowadays many of the modern medicinal innovations, which are used in the world's most successful countries, will be implemented in our clinic.
The Clinical Oncology Department equipped with ultra-modern apparatus and professional staff will start to function at The National Center of Surgery. Through this project, we will offer patients a high standard of treatment, which has been used in medical practice in developed countries. Patients will be able to get the full service of individualized, high-quality oncological treatment in the supportive environment. Radiotherapy will be performed using Varian's TrueBeam linear accelerator. Patients will get the Toshiba Aquilion Large Bore CT, as well as Philips Vereos PET/CT Scanner. These devices have already been purchased and their installation is in progress.
Citizens of Georgia often travel abroad where the treatment of oncological diseases is quite expensive. This project of the National Center of Surgery will allow citizens to be treated in Georgia and spend half money? And get all modern methods used in oncological treatment, which was only possible abroad. Our goal is to provide patients with complete oncology services in their homeland.
Yes, cancers can be defeated and this is not a myth! This confirms the example of many people. Unfortunately, people living around us who are not only skeptical but express their negative opinion in public and often in a rather rough way.
They say, along with medications, human warmth, support and attention are excellent treatments. It is obvious that for the patient with malignant cancer words and mood are of a great importance. That's why all those people who do not have medicinal knowledge, do not know the news of the oncology, do not have information about how survival rates of cancer patients have increased over the years, how the methods of combating cancer have developed and is progressing and despite of the lack of all these important information expresses his/her negative opinion, should be aware of the fact that cancer patients may read their incompetence comments or concepts. Such comments, sometimes affect badly not only doctors, who continue to battle cancer, doing everything to prolong the lifespan of cancer patients, but also patients, who are fighting against cancer, lose their hope and instead of support and encouragement, what they really need, similar comments can lead to hopelessness and desperation in cancer patients.
Everyone has the right to express their opinion and we should respect the opinion of every person, but we think that everything cannot be mocked, especially in the social network! Skeptical comments of people who do not work in the field of medicine and are dilatants in this issue may negatively affect a person who is diagnosed with cancer and can arouse suspicion, in the professionalism and commitment of Georgian doctors, in the society. While Georgian medicine is following the innovations and challenges in the world health.
The official website of the National Center of Surgery and our "Facebook" page regularly publishes articles about the innovations of the clinic and oncology direction is among them. The aim of our articles is to tell the reader what kind of oncological treatment we offer for patients. We also try to give them a hope and remind them that they are not alone in this battle, they have a real chance of recovery. And that is why we kindly ask our citizens, who are active in the social network, to be careful about their comments and remember that the cancer patient or his/her relative may read their skeptical comments. As soon as our oncological services are available in our clinic, on the example of patients, you will be constantly informed about the achieved results. We are convinced that today we can do much more for cancer patients than we could do yesterday. Today's technological innovations and a team of professional doctors in our clinic will be able to help many oncologic patients.
"Let's take care of your health together" This is the motto of the National Center of Surgery and it will be good if the whole society joins us!
Thank you for your trust and support!
Wish you health!