Principles of modern management of oncological diseases
Principles of modern management of oncological diseases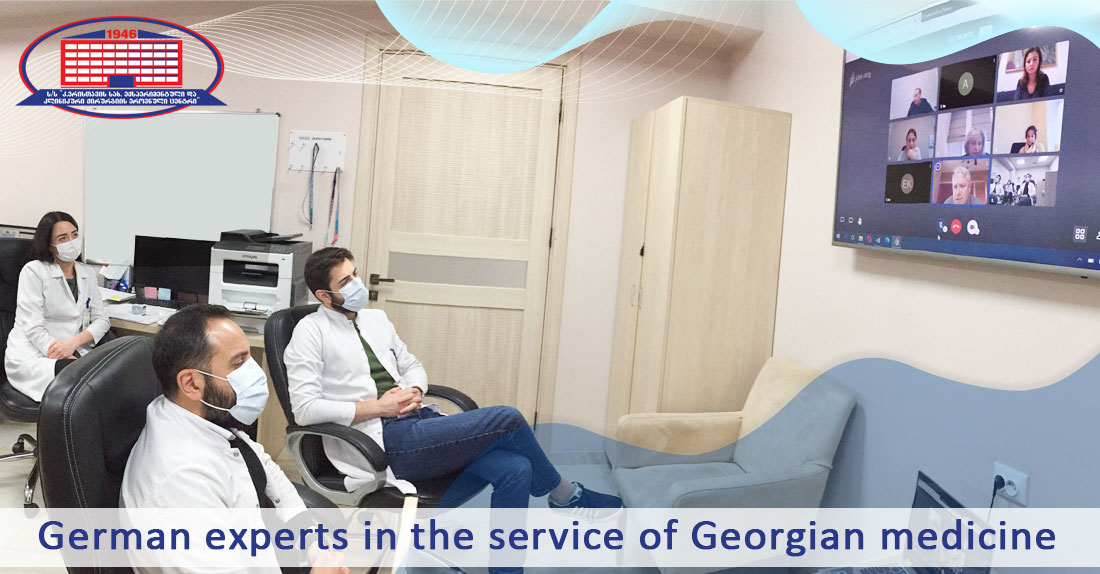 Senior Experten Service medical video conference was held with the participation of eminent German oncologist Johannes Blatter and leading oncologists of the National Center of Surgery
Oncological diseases are a complex medical and social problem, characterized by an aggressive course and a severe prognosis.
At present, great importance is attached to the early detection of the disease and timely appropriate treatment, because, unfortunately, tumor cells multiply at a rapid rate, causing the tumor to grow rapidly. With blood and lymph, cancer cells spread throughout the body and form new tumor foci - metastases.
The method of treatment of oncology patients in our clinic is determined by a multidisciplinary approach. The case of each patient with cancer is discussed and the decision of treatment is made on the Onco-Concilium by the cancer group, based on joint reasoning and discussion.
It is gratifying that renowned oncologist Johannes Blatter will join this group.
As a senior expert, with extensive experience in oncology, he is a distinguished specialist in the treatment of lung carcinoma. Overall, he possesses excellent technical knowledge.
As a pulmonologist, Johannes Blatter treats patients with lung diseases (COLD / COPP / allergic diseases, infectious pneumonia, tuberculosis, right heart failure after a pulmonary embolism, etc.).
The senior expert possesses a bronchoscopic-endoscopic approach to diagnosis and treatment therapy.
He has been involved in the research and approval of clinical medications and cytostatic drugs.
In 1989 he gained recognition as a medical specialist in lung diseases;
In 2010-2011 he was the Vice President of Global Life Cycle Management Erbitux;
Since 2014 is a member of the SES organization in the field of malignant lung cancer.
A video conference between the National Center of Surgery and the Senior Experten Service was held on modern cancer management standards.
Senior Experten Service (SES) is one of the most competent and leading organizations in Germany since 1983.
During the video conference, nuances were considered such as:
Unification of cancer treatment and follow-up monitoring strategy following world standards;
Determining the rational sequence of treatment schemes;
Intellectual resources provided for treatment and post-treatment monitoring;
Occupational risks of physicians;
Principles of modern management of oncological diseases;
Interesting and rare oncological cases from clinical practice.
Even during a pandemic, the clinic does not stop developing. Our goal is not to deprive the population of care and treatment by modern standards in a difficult situation.
The radiotherapy and oncology departments of the National Center of Surgery are equipped with state-of-the-art equipment such as:
Elekta's latest, 2019 Flexitron-HDR high-dose device, whose radiation source is Iri-192;
Modern and most sophisticated, 2018 Beam Accelerators (Truebeam; Vitalbeam) from the American company "Varian";
Philips Vereos PET / CT scanner (the first digital PET scanner in Eastern Europe and the post-soviet space).
In addition to the doctors of our clinic, the center's official experts participate in determining the method of treatment - Professor Natia Esiashvili, head of the Quality Department of the Department of Radiation Oncology, Emory University, and a leading specialist at the Multidisciplinary Oncology Institute of Genesis Care, Spain, Maia Jughashvili-Hernandez, Associate Professor at the University of Murcia, member of the International Relations Committee of ESTRO International Radiation Oncologists.
It is possible to defeat cancer with the National Center of Surgery!
Wish you health!
---
What are patients interested in
Chemotherapy
Qauestion:: Hello, My mother received several courses of chemotherapy, because of metastatic involvement of bone and liver. During that time platelet count significantly decreased and only presented with small skin hemorrhages. In chemotherapy, platelet count sometimes increases or decreases, she simultaneously takes Revolade (50mg) on a daily basis and underwent platelet transfusion several times that had an only short-term effect. Is it possible to find another solution for the mentioned problem at your clinic? Thanks in advance
See Answer
See More