What is stroke and how to recognize the symptoms?
What is stroke and how to recognize the symptoms?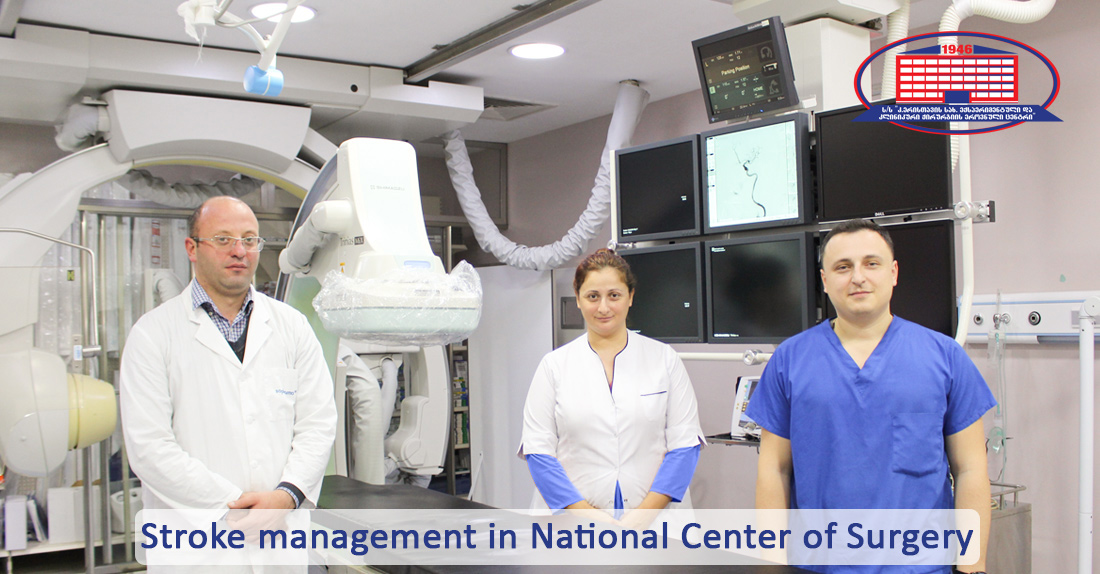 29th of October world celebrates International Stroke Day.
The campaign aims to raise awareness of symptoms and treatment, rehabilitation and prevention methods
The campaign started in 2006 by the World Stroke Organization and is celebrated annually ever since. Every year people unite around one idea – it's necessary to take more effective steps to fight this cruel pathology.
Georgia's leader-clinic in the fight against stroke, National Center of Surgery with successful Stroke Center, joins the International Stroke Day with a promotion. Particularly, anyone can consult with a neurologist and receive a cerebrovascular duplex (Doppler) examination free of charge.
All modern methods of stroke management are implemented in our clinic's Stroke Center. It's worth mentioning that stroke patients are treated with exclusive treatment methods individually or in combination – systemic venous thrombolysis and thrombectomy, only in National Center of Surgery.
Defining risks of stroke development and taking all necessary measures for prevention are also feasible with ultramodern medical equipment.
Every 30 minutes a stroke patient who could have been saved, dies or is left permanently disabled, not just because of the stroke, but because he or she had been treated in the wrong hospital i.e. in a clinic without special treatment center for managing this pathology. That's why the patient should be moved to National Center of Surgery as soon as symptoms are recognized!
How to recognize stroke symptoms?
Stroke is an acute disruption of blood flow caused by cerebrovascular pathology.
Symptoms of stroke are:
Headache;
Speech disorder;
Cognitive decline;
Vomiting;
Loss of strength in extremities;
Facial asymmetry;
Loss of coordination;
Facial numbness;
Numbness of extremities;
Paralysis;
Please, remember that every second is crucial in this fight! That's why if you suspect the pathology based on symptoms, remember National Center of Surgery where stroke patient's life can be saved from disabilities if transported promptly.
Stroke management in National Center of Surgery
The clinic offers patients to receive treatment with modern methods that are implemented in the leading clinics of the U.S and Europe
SHIMADZU Biplane Angiograph Trinias B12, exclusive in the region, laid the foundation of the Stroke Center in National Center of Surgery.
For pathology management, the following are implemented in the clinic:
Triage of patients affected by acute stage of disease;
Medication and surgical treatments of hemorrhagic stroke;
Measures to restore cerebral circulation and prevent pathological processes – systemic intravenous thrombolysis, endovascular thrombectomy (using angiograph);
Surgical treatment of brain hemorrhage, aneurysm, arteriovenous malformation, carotid and vertebral artery stenosis using both, open and endovascular methods (with angiograph);
Early neurorehabilitation;
Measures to prevent cerebral infarction recurrence and vascular processes (secondary prevention);
Physiotherapy and rehabilitation.
Systemic intravenous thrombolysis or endovascular thrombectomy is carried out per modern guidelines. It's worth mentioning that sometimes only thrombolysis therapy isn't enough for a full recanalization of the vessel, and it's necessary to conduct combined treatment (i.e. both thrombolysis and thrombectomy).
Of course, the method is chosen individually based on the health condition of the patient.
What should you know about thrombolysis?
Thrombolysis is a modern method of treatment using which thrombus blocking the blood vessel is dissolved. A blood vessel is recanalized i.e., thrombolysis aids the restoration of the blood flow to the damaged area.
What should you know about thrombectomy?
Thrombectomy is conducted endovascularly and presents a minimally invasive intervention. Neurosurgeon approaches area through the femoral artery and removes thrombus from the carotid basin, which occludes the specific vessel. After that, the blood flow is completely restored.
A gold method in diagnosing a stroke
Computed tomography perfusion is established in National Center of Surgery. Scientists have already recognized it as an absolute leader in stroke diagnostics
Perfusion computed tomography enables radiologists to study cerebral hemodynamics at the capillary level.
During the acute ischemic stroke, perfusion is an essential study, because it differentiates dead and susceptible cells (tissues) caused by ischemia. Defining these changes (differentials) is essential for proper management of the patient. This method significantly decreases the disabilities and fatal outcomes.
This method can detect the pathological process, the area of ischemia, and determine the penumbra (decreased or marginal zones) from the first minutes of the disease. The color map image allows us to detect even the smallest areas of damage.
Types of stroke and risk factors
There are two types of stroke: ischemic and hemorrhagic.
Ischemic stroke develops as a result of the sharp decrease in blood circulation caused by cerebral embolism, spasms or/and atherosclerosis plaque.
Hemorrhagic stroke is a brain hemorrhage that is mostly caused by an increase in arterial pressure.
Risk-factors comprises heredity, age, gender and commonly, patients have following in their history:
Rheumatic heart disease;
Myocardial infarction;
Arrhythmia;
Diabetes;
Atherosclerotic changes.
It should be mentioned that during a transient ischemic attack (so-called mini-stroke), symptoms resemble one of cerebral infarction, but in this particular case, symptoms disappear after a short time. This is the body's warning on the risks of pathology development.
Different age groups are characterized by different cerebrovascular pathologies, for example, atherosclerotic thromboembolism, cardiogenic embolism and primary (hypertensive) intracerebral hemorrhage develop in middle and old age.
Stroke is one of the significant challenges of modern medicine, and National Center of Surgery fights to defeat this cruel pathology every day for 24 hours.
Wish you health!