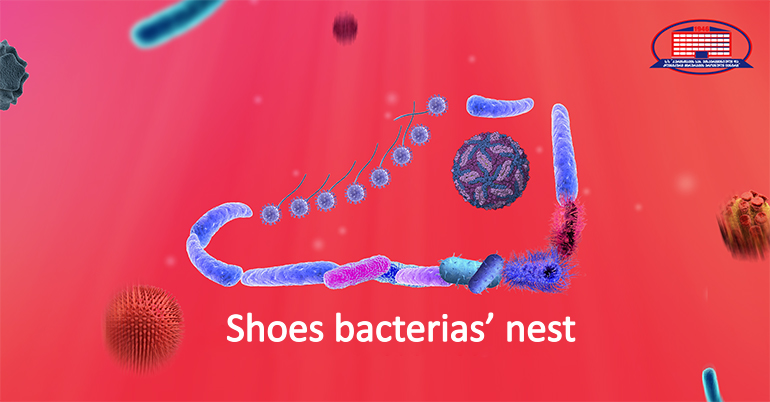 The bacterium is a unicellular microorganism that occurs almost everywhere, in the soil and deep layers of the earth's crust, in water or in the atmosphere.
Not all types of bacteria cause disease, many of them are safe and moreover, are useful for our immune system, but there are pathogens in the nature that cause serious infectious diseases.
Most bacterial infections develop in everyday life. Colonization of the microorganisms on the skin, upper respiratory tract, oral cavity, intestines, the urinary system often develop.
It is recommended to remove the shoes as soon as you enter the house.
Nana Dididze, the epidemiologist at the National Center of Surgery, states that living in a healthy environment is an important prerequisite for preserving human well-being.
In addition to numerous pathogenic bacteria, there are thousands of highly toxic chemicals in the environment. They mainly accumulate in soil and water. Because of this, it is undesirable to enter the house wearing shoes, which we had been wearing on the street. Many bacteria that are brought from the street, pose a risk to human health.
Remember that more than 400,000 bacteria feel comfortable on the sole of a shoe, including E. coli. This bacterium causes a number of problems in the gastrointestinal tract. Harmful bacteria that exist on the sole of a shoe spread easily to the carpet and floor. It is enough to touch the infected surface and the unpleasant discomfort immediately appears.
National Center of Surgery address – Tbilisi, Digomi Chachava street N5.
You can contact the Call-center of the National Center of Surgery at 577 11 91 19 or 2 02 25 25;
If you have some questions, you can contact the epidemiologist of the National Center of Surgery Nana Dididze at 577 09 13 77.
Wish you health!