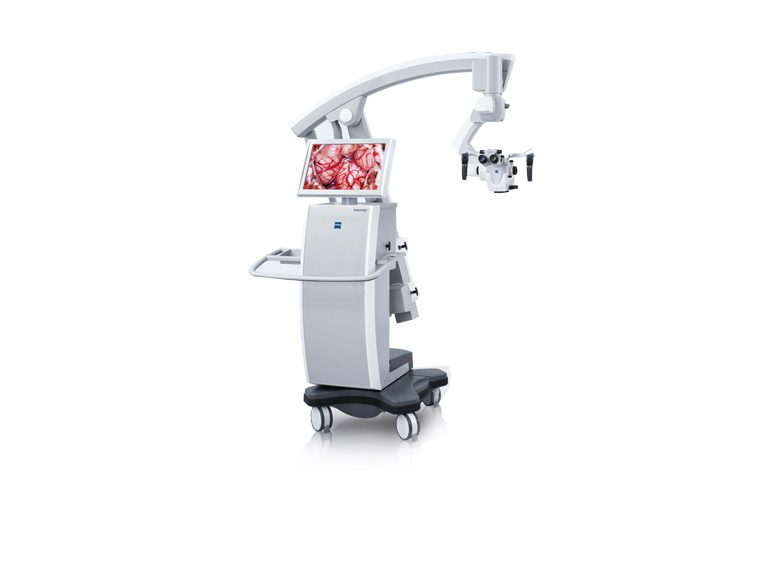 OPMI Pentero 800
Performing unique works on fine structures, long hours of concentration, maximum accuracy and usage of the operating room space with the maximum efficiency, these are difficult tasks of the surgeon.
According to modern microsurgery requirements, ZEISS has created a new microscopy system OPMI® PENTERO® 800.
Thanks to the unique apochromatic lens, best ergonomic capabilities, ZEISS OPMI PENTERO 800 system has high resolution which helps to perform neurosurgical operations with high accuracy and achieve the best results.
Visualization of the details:
Working on the most difficult anatomical details requires maximum lighting and magnification.
Inspection of the smallest details using eyepiece and monitor is possible thanks to the apochromatic lens, bi-xenon lighting and fully integrated video recording system of ZEISS OPMI PENTERO 800 Microscope.

The Simplicity of exploitation:
Taking into account the strict working regimen of modern neurosurgery, OPMI PENTERO 800 includes intellectual ergonomic data that allows complex surgical work to be done easier and more effective.
Unique elements like "floating side" and dynamic folding probe of the microscope, make the device comfortable for the surgeon. This unique design of the structure excludes exhausting the physician during operation.


Maximum coefficient for using the operating room
The time factor is of great importance. Patient's short-term stay in the operating room increases the number of operations and guarantees the best possible outcome. The functions like AutoBalance, AutoDrape® and FlexiTrak ™ allows the personnel to use the device maximally. The simple interface of the device ensures the retention of the patient's data, selected functions, and video recordings through a direct way that is mediated easily through the touchscreen.