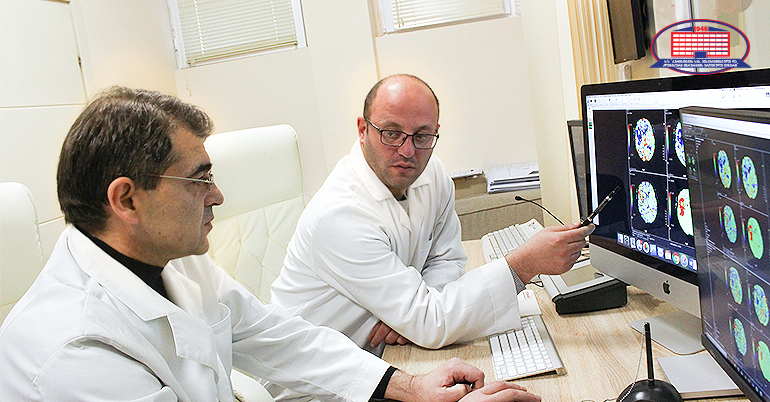 Take advantage of the great opportunity of the Stroke Center and the Department of Radiology at the National Center of Surgery.
For 450 GEL, we offer diagnostics and treatment of pathological processes in the brain.
Perfusion computed tomography allows studying cerebral hemodynamics at the level of capillaries. From the first minutes of the disease, this method can detect the pathological process, the area of ischemia and the determine the penumbra (reduced or marginal zone). The color map allows us to detect even the smallest areas of damage. This is the most important study that reduces disability and death.
The promotion is valid every Monday, Tuesday, and Wednesday!
The essence of the method is as follows: after the injection of the intravenous contrast, according to the changes in the density of brain tissue, a quantitative measure of blood flow is determined.
Observation of the changes in the density of brain tissue allows us to determine the amount of blood flow - which is achieved by intravenous contrasting.
Perfusion computed tomography is successfully used in the following cases:
Blood flow disruption during the ischemic stroke;
Blood flow disturbances in traumatic brain injuries;
Assessment of hemodynamics in brain tumors;
Detection of occlusive diseases, chronic stenosis of the intra- and extracranial arteries, hidden ischemic processes in the brain parenchyma due to critical stenosis of the carotid artery;
Determination of the exact area for biopsy in brain tumors;
Monitoring of a brain tumor after radiation and chemotherapy.
Please make an appointment in advance! Call us at 577 119 119 or 2 02 25 25 and use our promotions!
Wish you health!
Give us a call