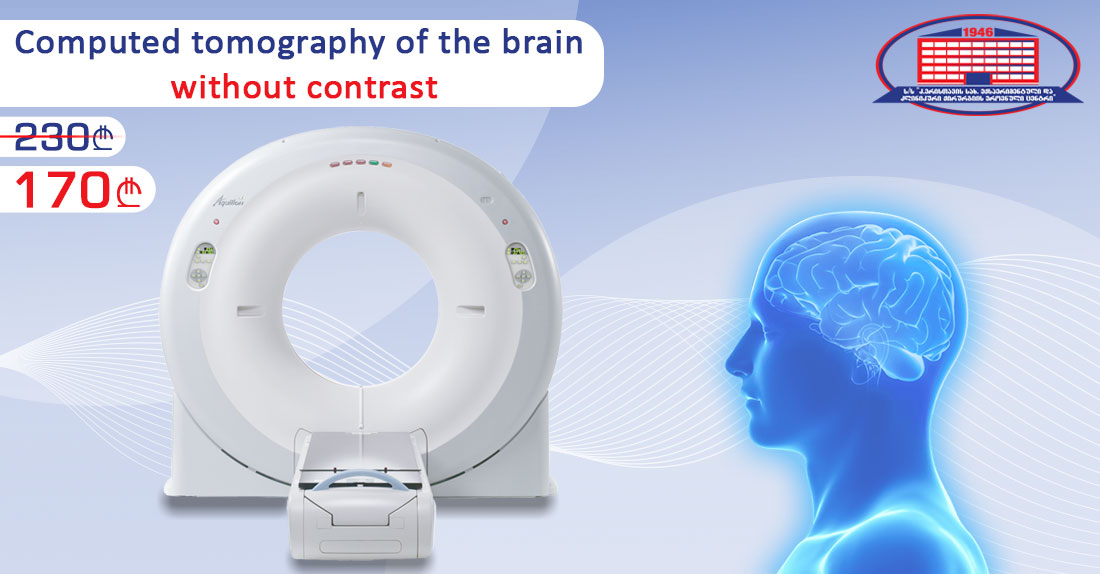 Headache is one of the most common forms of pain and this discomfort is known to 70% of the population.
It should be noted that headaches are caused by different reasons:
Organic diseases of the brain (trauma, voluminous formations);
Vascular causes (migraine, hypertension);
Psychogenic causes (tension, fatigue, stress);
Non-neurological causes (osteochondrosis, infections, endocrine disorders, pathologies of various organs) and others.
Usually, many people fight it with painkillers. However, the analgesic effect is temporary.
Withing the promotion of the National Center of Surgery you will get a complete conclusion, the exact cause of the headache will be determined and you will be prescribed the appropriate course of treatment.
That is why if you often suffer from offensive headaches, which can arise both independently and due to past trauma, contact the National Center of Surgery.
Within the campaign, instead of 230 GEL, we offer 170 GEL:
Computed tomography of the brain on the state-of-the-art, multislice computed tomography Toshiba Aquilion RXL, which is the undisputed leader in its class;
Consultation of a neurologist.
Computed tomography is very important for the timely diagnosis and prevention of the disease.
The National Center of Surgery is equipped with state-of-the-art, multilayer computed tomography Toshiba Aquilion RXL, which is the undisputed leader in its class. The most important factor in computed tomography systems is of high image quality. To this end, the Japanese company Toshiba has developed several innovative technologies that have equipped the Toshiba Aquilion RXL computed tomography.
It is with this installed computed tomography that research is underway!
The promotion is valid every Wednesday and Thursday.
If you want to take advantage of this promotion, please register in advance at (+995) 0322 02 25 25!
Wish you health!
Give us a call