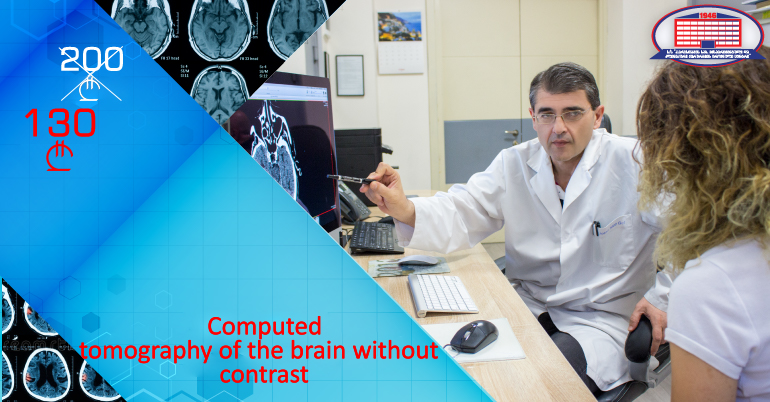 A headache, or cephalgia, is one of the most common forms of pain and about 70% of people are familiar with it.
It should be noted that a headache can be caused by many reasons:
Organic diseases of the brain (traumas, neoplasms);
Blood vessel dysfunction (a migraine, hypertension);
Psychogenic causes (stress, exhaustion);
Not related to the brain (osteochondrosis, infection, endocrine dysfunction, pathologies of various organs) and etc.;
As a rule, many people try to ease the pain with painkillers, but their effect is temporary.
With the help of the National Center of Surgery, you can get a complete conclusion, identify the specific cause of the disease and receive an appropriate treatment course.
If you are suffering from a migraine headache, that can be associated with a previous trauma or may not be connected to anything, please, visit the National Center of Surgery.
Within the framework of the promotion for 130 GEL instead of 200 GEL we offer:
CT scan of the brain using ultra-moderns, multi-slice CT scanner Toshiba Aquilion RXL, which is a leader in its class;
A consultation with the neurologist.
The CT scanner is a very important machine for timely diagnosis and prevention of the diseases.
The National Center of Surgery is equipped with multislice computed tomography Toshiba Aquilion RXL, which is a leader in its class.
The most important factor in the CT system is the high quality of the image. That is why Toshiba has developed a number of innovative technologies and implemented them in Toshiba Aquilion RXL system.
On this computed tomography, with important functions, we carry out the scanning!
The offer is valid every Tuesday and Thursday!
Please make an appointment in advance! Call us at 577 119 119 or 2 02 25 25 and use our promotions!