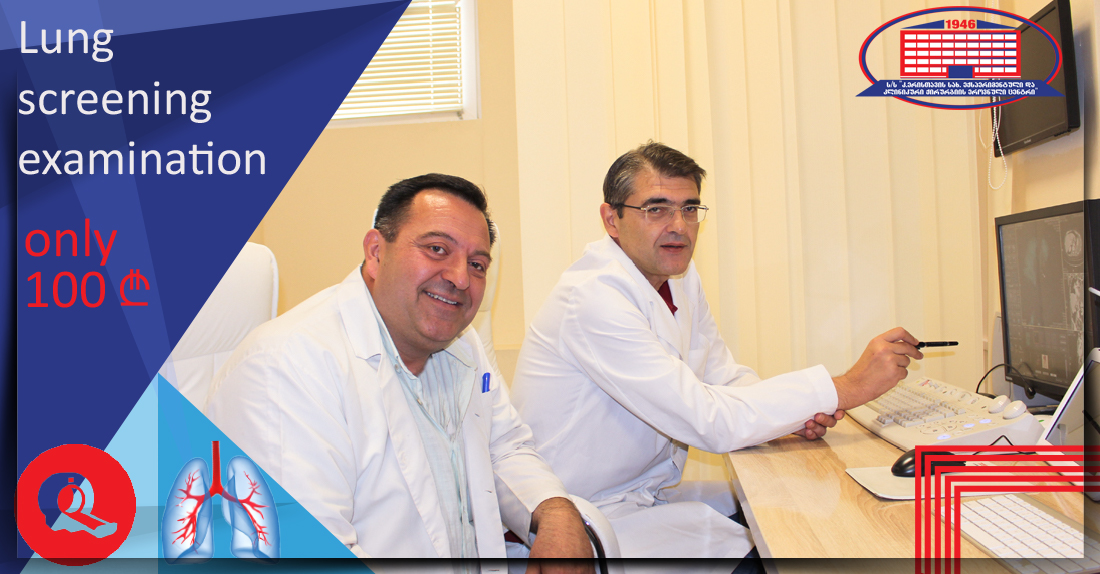 Do a lung screening citywide for a maximally affordable price.
National Center of Surgery offers you a promotion that is extremely important for lung cancer detection.
Within the promotion, you will do all the necessary examinations that will serve lung cancer's on-time and proper diagnostics and later on - treatment.
Only for 100 Gel, we offer you:
Low-dose computed tomography examination of the lung;
Free consultation of the thoracic surgeon based on the results of the computed tomography.
If based on a patient's health condition, doctor-in-charge will additionally consider biopsy with computed tomography/biopsy with echoscopy and spirometry necessary, within the promotion significant discount is intended for the mentioned examinations.
Promotion can be utilized by:
Any citizen regardless of gender who in the past used to or now consumes tobacco.
Who is bothered by frequent coughs and respiratory system's inflammatory diseases;
Who's in contact with dusty environment and chemical compounds;
Who has a family anamnesis of oncologic diseases;
Within the promotion, National Center of Surgery's radiologist of the radiology department Irakli Gigiadze and thoracic surgeon professor Zaza Lomidze will serve and assist you.
Promotion is valid every day.
Please, make an appointment in advance at 577 119 119 or 2 02 25 25!
Wish you health!