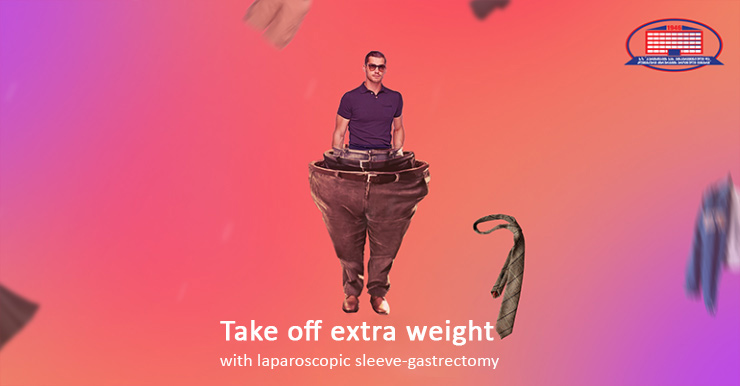 National Center of Surgery offers a consultation with a surgeon and endocrinologist free of charge.
If you have excess weight and would like to safely say goodbye to extra weight!
National Center of Surgery offers a sleeve-gastrectomy operation, which is a minimally invasive surgical intervention with a 100% result.
Sleeve-gastrectomy is conducted with the laparoscopic method.
The patient stands up on the second day after the surgery, becomes active and is discharged in 5 days, whereas s/he starts to exercise in a month.
Sleeve-gastrectomy operation is funded by public healthcare program and private insurance companies on the basis of the copayment principle.
Sleeve-gastrectomy is a vertical resection of a stomach, volume of the stomach is reduced. Together with the removable volume, the hormone responsible for appetite is removed as well. The mentioned hormone is ghrelin that causes a feeling of hunger.
Experienced team of surgeons, who have successfully conducted sleeve-gastrectomy for years, will care for the return of your healthy weight. With sleeve-gastrectomy, a patient says goodbye to extra weight and also, comorbidities of obesity regress.
The clinic is equipped with higher quality devices that play an important role in the success of the operation and reduce the risk of complications.
Following team of doctors of our clinic provide preoperative preparation of the patient:
Surgeon;
Cardiologist;
Psychotherapist;
Therapist;
Endocrinologist;
Nutritionist.
They order and conduct a full course of the examination.
Remember, defeating obesity is easier with the support of National Center of Surgery!
Please, make an appointment in advance at 577 119 119 or 2 02 25 25 for a free consultation.
You can contact Surgeon Gigo Pichkhaia at 596 26 92 92 for consultation on any issue.
Wish you health!
Give us a call