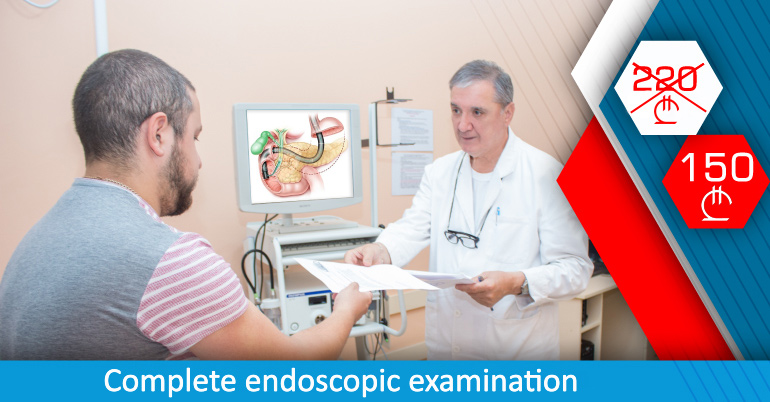 Along with the diagnosis of the pathology of the esophagus, stomach, duodenum and large intestine, you will receive appropriate surgical or therapeutic treatment.
Within the framework of the promotion we offer:
A free consultation with the professor;
Along with the free consultation, you will receive a complete examination of the small and large intestine, with or without anesthesia.
The cost of colonoscopy without anesthesia is 150 GEL instead of 220 GEL, with anesthesia - 250 GEL instead of 320 GEL;
The anesthesia is preferable if the patient experiences some discomfort and choose to use this service. This is a proven method and is done on an outpatient basis. After the examination, the patient returns to the usual lifestyle in an hour.
For this study, we are using the ultra-modern endoscope manufactured by the Japanese company Olympus. The machine is distinguished by high-quality visualization. The doctor can use the NBI regimen, which includes the detailed, microscopic examination of blood vessels.
A free consultation with the gastroenterologist if necessary.
The offer is valid every Monday and Thursday!
The promotion is led by the endoscopist of the National Center of Surgery, Doctor of Medical Sciences, Professor Giorgi Elisabedashvili.
Take advantage of the promotion of the National Center of Surgery if you have the following symptoms:
Bloody, mucous or purulent discharge from the anus;
Feeling of heaviness, discomfort in the perineum;
Pain in the anus during the defecation;
Abdominal pain and bloating;
Intestinal prolapse in the perianal area or the presence of neoplasm;
Unexplained weight loss, general weakness, loss of appetite;
Flatulence;
Difficulty in passing stools;
Alternating diarrhea and constipation;
Anal itching;
Bloody discharge from the rectum, etc.
Please make an appointment in advance! Call us at 577 119 119 or 2 02 25 25 and use our promotions!