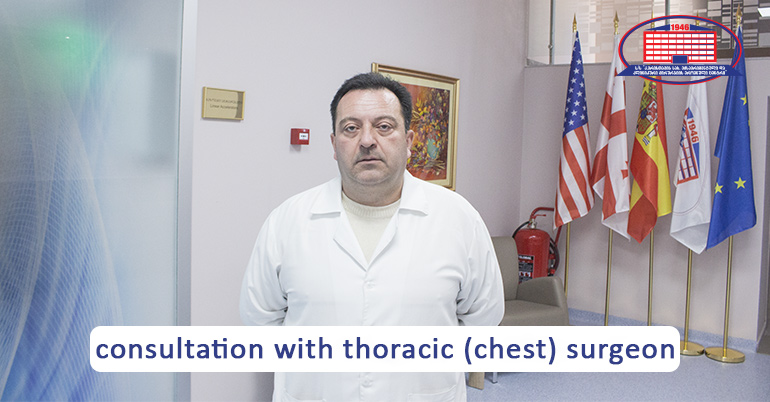 Due to increased manifestations of respiratory system diseases and lung cancer, those diseases represent an important task for medicine and contemporary oncology.
In order to improve patients' diagnostic and further treatment, the National Center of Surgery offers free consultation with thoracic (chest) and oncological surgeon.
Promotion is valid on Friday.
Thoracic (chest) and oncologist surgeon Zaza Lomidze will conduct free consultations.
Following free consultation with a surgeon, following examinations, if necessary, will be conducted with significant discount:
Computed tomography of the chest with contrast using clinic's ultramodern 32 slice computed tomography machine Toshiba Aquilion RXL. Examination will be conducted for 160 GEL, instead of 320. GEL.
X-ray examination using SHIMADZU's digital X-ray machine for 25 GEL instead of 45 GEL.
You should utilize the promotion, if:
You're 40 years old or above.
Currently are a tobacco consumer.
You were an active smoker.
You are in contact with dusty environment, chemical compounds or their production.
You suffer from chronic inflammatory diseases of respiratory tract.
Have a family anamnesis of oncological diseases.
Youo should utilize the promotion even if you don't considere yourself to be in one of the listed risk-groups, but have complaints of following symtopms:
Continued dry cough;
Chronic bronchitis;
Chest pain;
Troubles or shortage of breathing;
Bloody sputum;
Weight loss;
Lose of voice;
Loss of appetite
If you would like to utilize mentioned promotion, please, make an appointment in advance at 577 119 119 or 2 02 25 25!
Wish you health!